In today's digital world, internet users are so lucky to have access to pretty much anything at the tips of one's fingers in a moment's notice, whether it be information, art, television, music, or commerce.
In the world of real estate, homes are bought and sold online before the new owner has even toured the property in person. And in most new home purchases, the prospective buyer finds the property on a Zillow search and the listing photos play a large role in whether or not they do visit in person. What one sees online and are able to research about the town, often solidifies the decision to view and then purchase. In short, what one sees on their phone screens or computers, has a big impact.
In the industry of interior décor and styling, what a stylist consumes online plays a huge role in the service that they can provide. From sourcing products for clients to have in their homes, researching paint colors and formulas, to producing digital mock-ups and floorplans.
The marriage of real estate and interior decorating is home staging. Home staging is the service of preparing a property to be best marketed. While the primary goal of home staging is to sell the property, home staging can also be used for interior photography and videography when trying to market a product or for any type of production. The industry has grown tremendously over the last ten years largely due to, you guessed it – the internet. And even more specifically, social media platforms like Instagram and TikTok. Where producing a video with a trending sound or with a choreographed dance routine can be served to users across the globe and garner a huge reaction. Have you ever heard the phrase, "it's a gift and a curse"? Because that's a great way to describe society's far and wide access and exposure to content on the internet.
All this to say, for the average homeowner looking to define their own interior style, it can be incredibly overwhelming. Older generations were accustomed to all homes looking the same. There were the nuclear neighborhoods of the 1950's. The mass produced homes, inspired by the factory process of automobile maven Henry Ford.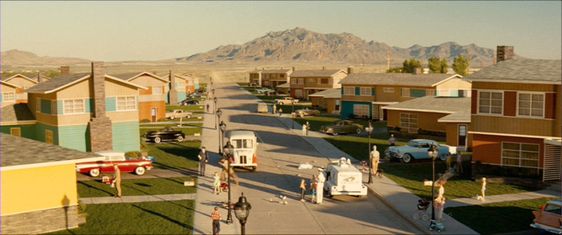 To homes of grandeur like those of the Stepford Wives.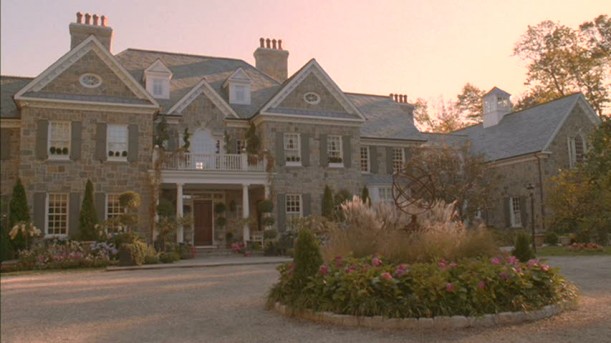 Homes, neighborhoods, and media of the past provided this vision or goal of uniformity. Depending on where one lived, there was a single way your home should look. It was that simple – it should look like everyone else's. And it wasn't hard to know how to achieve this. The only homes one would see inside of, was their own, their family, and friends', their neighbors', and those of television or movie families'. One would purchase their furniture or home wares from the Sear's catalog, just like everyone else. 
While today the keeping up with the Jones' mentality is still present at times, there has been a switch to originality in the home.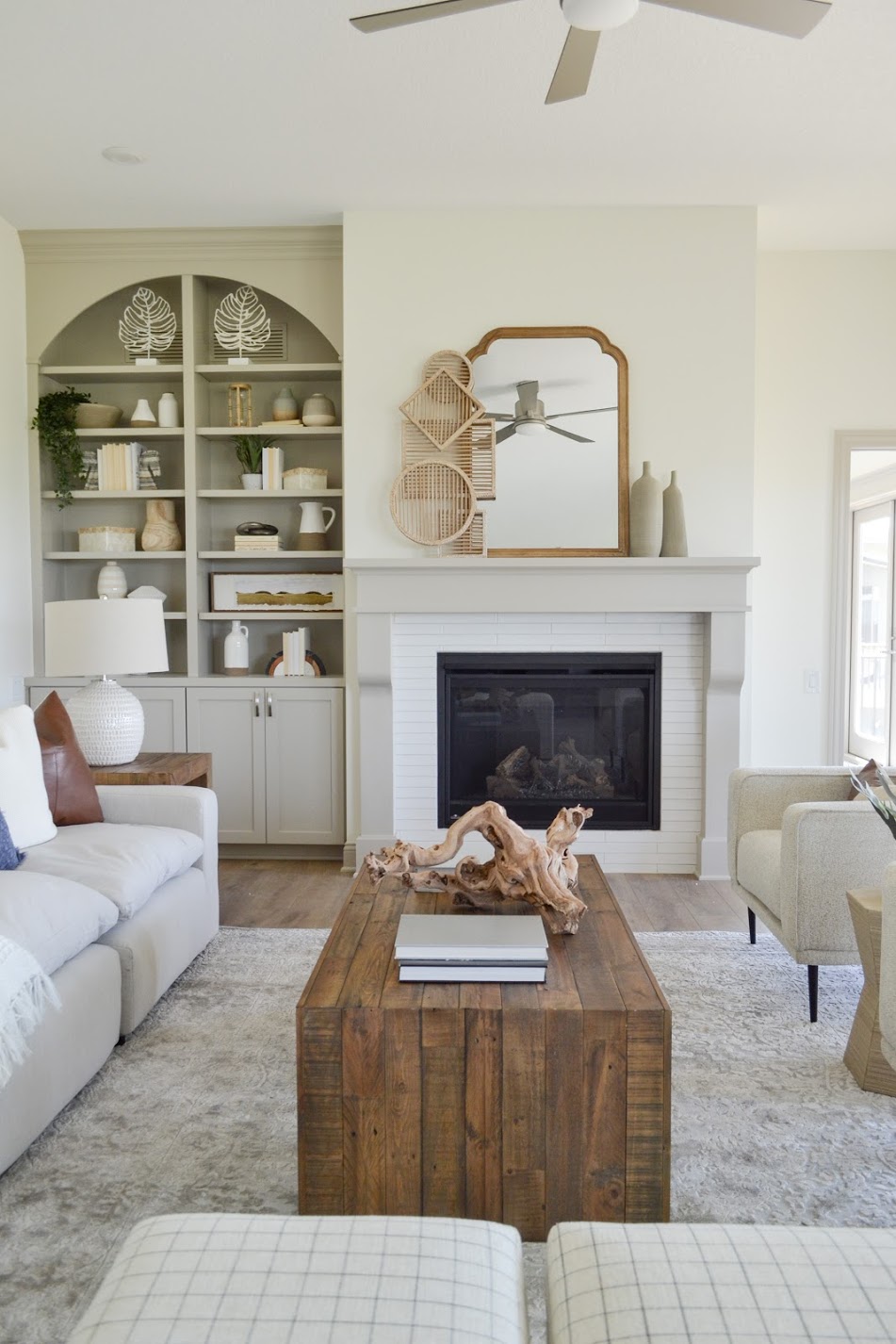 One's home should be a reflection of their personality, and while that may be solid and ground for many, the time one spends consuming content can muddy this. One may find themself asking, is my personal style this or that? "Modern farmhouse" or "Transitional", "Contemporary" or "Coastal"? 
An inclusive list of interior styles starts with…
Traditional
Transitional
Minimalist
Contemporary
Modern
Scandinavian
Rustic
Organic Modern
Farmhouse
Modern Farmhouse
French Country
Hollywood Regency 
European 
Tuscan
Glam
Shabby Chic
Coastal
Bohemian
Mid Century Modern
Industrial
Eclectic
Art Deco
Japandi
But continues to include many other styles not listed.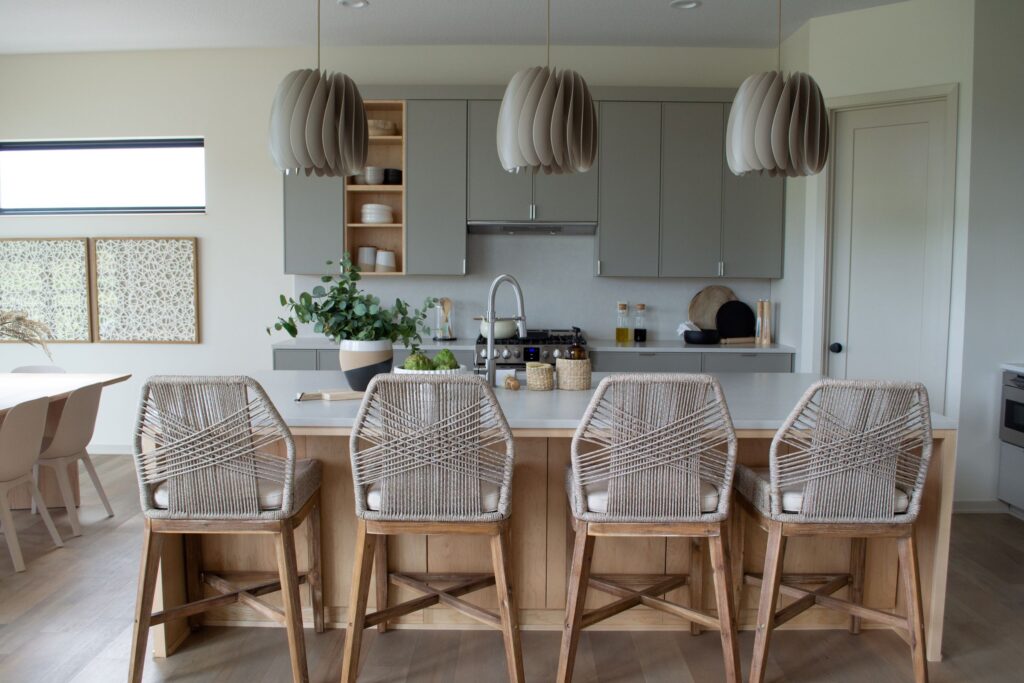 It can be overwhelming for one to consume hours of social media content and then look to their own homes and feel confused. The internet can make one feel stuck in a box and left to choose one interior style – when in fact, it should be the opposite.
Liking or having a home with heavy wood textures doesn't lock in one's styles as rustic or farmhouse. Preferring simple lines over ornate texture, yet still wanting decadence is perfectly okay and attainable. The gift of the internet and access to all forms of media and content simply means that one does not have to decide on one style of interior and remain constant in it. It's actually the mixing of elements across multiple different styles that allow for the most unique, custom, and striking homes. 
In home staging, it is advantageous to mix styles, as the goal is to show the property in a way that appeals to the majority of people. For example, in a home with very contemporary architectural details, it would be beneficial for the home staging to showcase how the property could be styled with transitional furniture or modern farmhouse inspired pieces.
Not only should the pieces themself have features that can allow for one's own interpretation of style, the greater the surface area for styling – the more it is able to be customized to preference. One detail or characteristic should not hinder someone from introducing a new piece of furniture to their home. The glam collection from Nathan James is the perfect line of furniture to add a touch of soft edginess and allow for personalization, regardless of one's home style. More so, Nathan James offers the most affordable furniture prices across the market for high quality pieces, allowing one to try a new style without a huge financial commitment.
Modern Organic Glam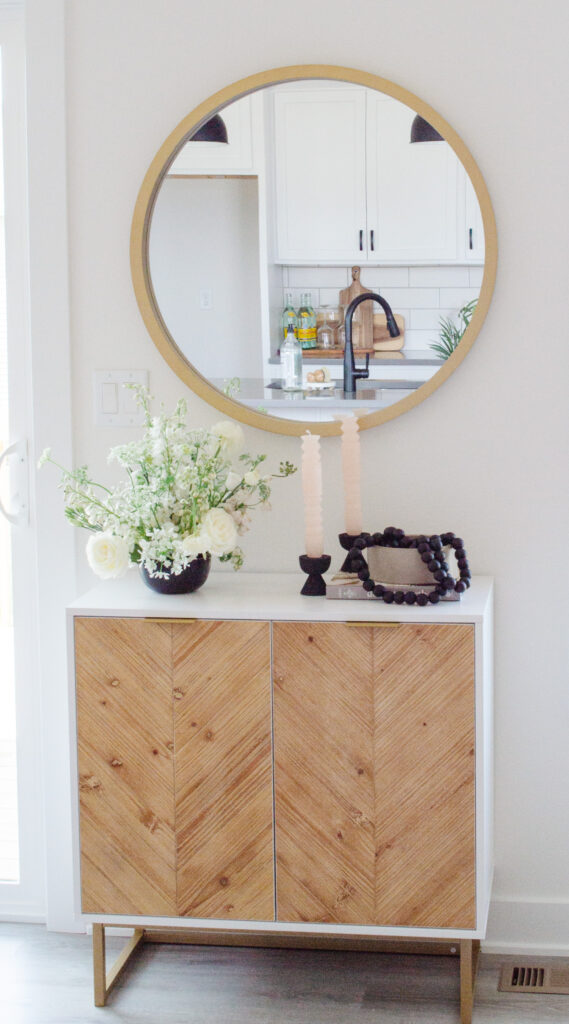 The Enloe sideboard is one of many showstoppers in Nathan James' Glam collection. While the gold edge hardware and sled frame lend to glam, the light wood herringbone cabinet door inlay allow for user's interpretation of modern farmhouse, rustic, organic modern, or Scandinavian.
The white perimeter makes this sideboard console match any flooring or wall color, as shown with a gray LVP (Luxury Vinyl Planking) and off-white wall color with pure white trim work. The property featured in this home staging falls under the interior design styles of modern farmhouse and industrial, as noted by the white cabinetry, black hardware, traditional running bond subway tile and black bell dome kitchen pendants.
The Enloe sideboard is perfectly complemented by the mirror hung above in a round brass frame. To keep this sideboard adaptable to all styles, the décor excludes any additional mixed metals. By using black elements, the sideboard is tied back to the home's architectural details. 
The use of black lends modern, but introducing texture allows for the herringbone inlay to stand out. The black ceramic candle holders, geometric shaped taper candles, cement canister, and black beaded chain emphasize an earthy organic element, while still working with the glam details of the Enloe sideboard. Adding a touch of greenery works with any interior design style, and the vase or vessel presents the opportunity to incorporate personal style.
To move the eye around, a coffee table book is used for layering and height variation. Books are a home stager and interior stylist's best kept secret – not only are they affordable ways to fill surface and allow for height and dimensionality, it's a great way to add a personal touch to one's styling. Choose a book that aligns with one's interest and voila, custom decorating made easy. With this styling, the Enloe Sideboard keeps an emphasis on glam but is softened with a touch of modern organic.
Speaking of books, the Oscar Etagere is another affordable designer inspired furniture piece from Nathan James.
Modern Transitional Glam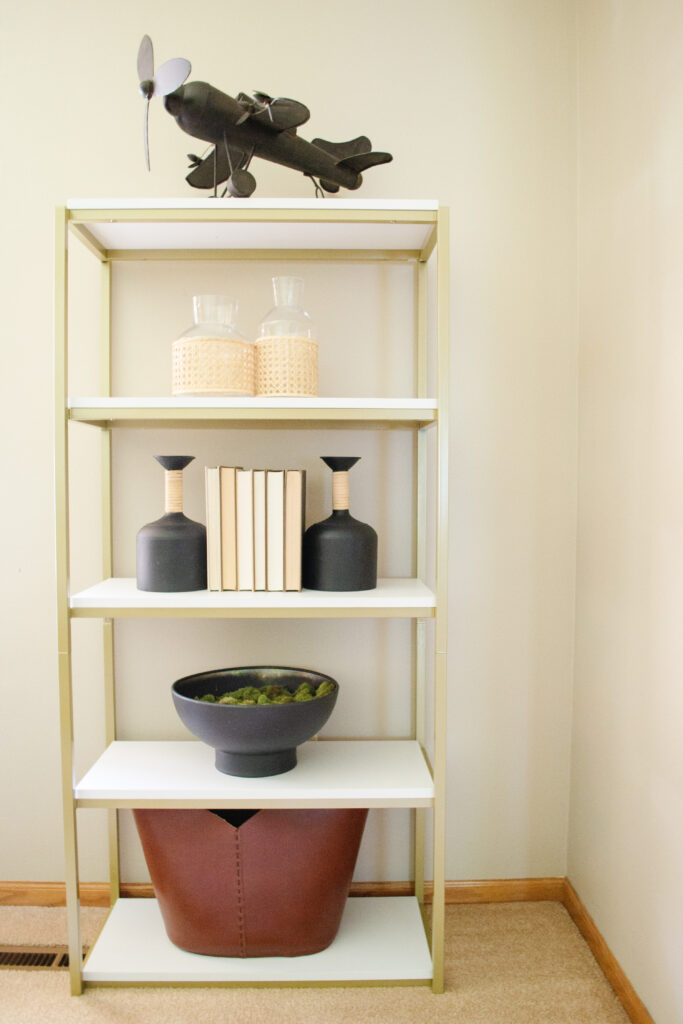 For home staging or interior styling, bookshelves are one of the most transitional furniture pieces. Any room with empty wall and/or floor space can benefit from a shelving unit. Specifically when you are wanting to introduce character and style – an etagere is the best option, defined by having open shelves for displaying personal artifacts or décor.
A trademark to Nathan James furniture is functionality mixed with aesthetics and the Oscar Etagere is no stranger to this. With its five white shelves and gold frame, this piece works in any room from a nursery to a dining room. To style this piece in a modern farmhouse inspired home, one should bring in black and white books, woven baskets, vintage clocks, faux potted greenery, and vintage inspired landscape prints. For a Modern Scandinavian home, one should style the Oscar Etagere with light wood frames, minimal ceramic vases, sleek taper candlesticks, and monochromatic book stacks.
Not only are the furniture pieces in the Nathan James Glam collection desirable to home stagers and home owners alike due to their affordable price and styling abilities, the ease of assembly and movability is incredibly beneficial. Individuals in the home staging profession need furniture pieces that are literally and figuratively easy to move from one home to the next. The Glam collection is durable yet lightweight, allowing for easy transitions. Additionally, the pieces are sized perfectly for many different locations. In one home staging project, the Enloe sideboard may be used as a dining buffet, and in the next home, as an entryway console. 
Hallmark to all Nathan James furniture pieces, the Lucy Bistro table is flexible in any space, and shown here in a modern glam piano lounge. Gold accents were used in the styling of this piece which compliment the gold base. The faux marble top paired wonderfully with the authentic marble floor tiles. In this room, it's the perfect place to serve coffee in the morning or champagne in the evening. While in this space, it emphasizes the luxury of the room and moment, the Lucy bistro table functions just as well in a casual space to serve as a small dining table, or work space. The Lucy Bistro table could be used in a breakfast nook one day, and next in a foyer, in addition to the array of side tables, bookshelves, desks, and more included in the collection.
Modern Traditional Glam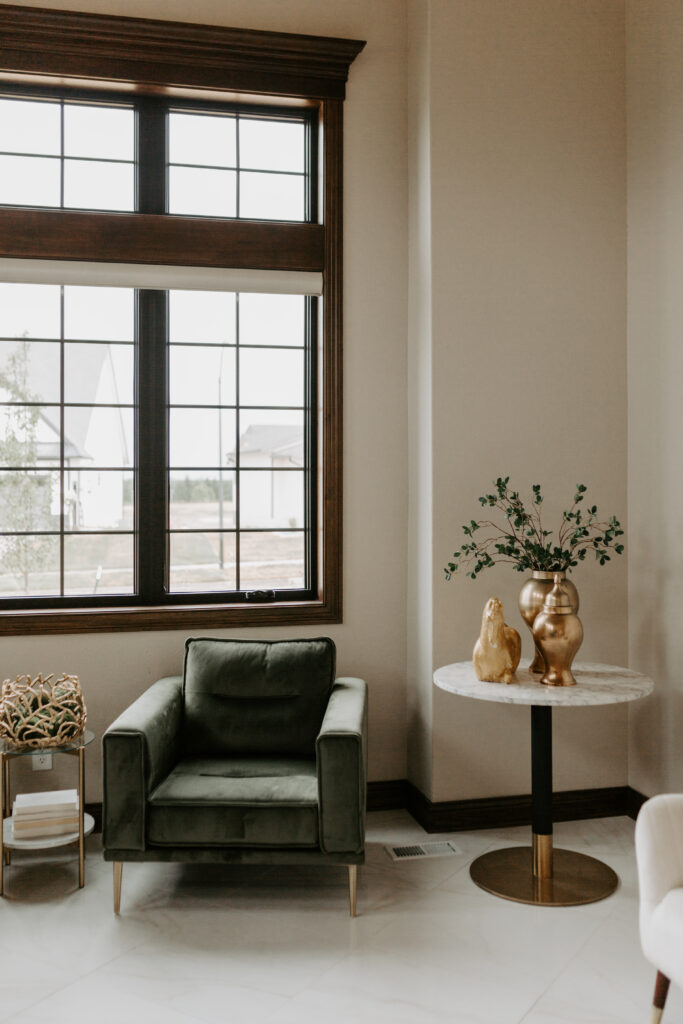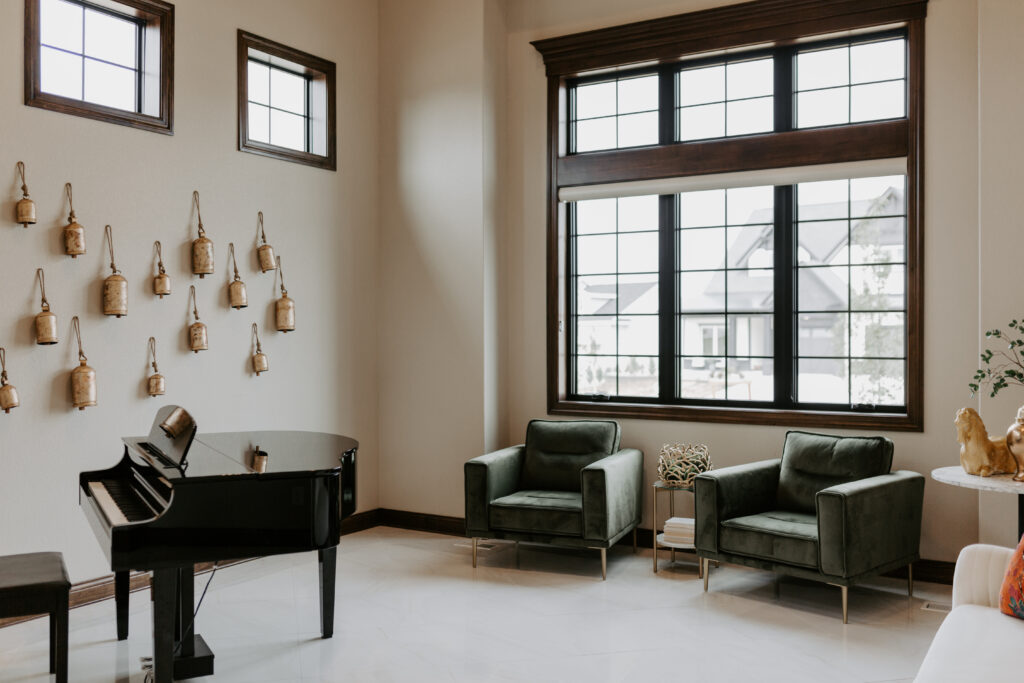 The Nathan James Glam collection features gold elements that can transition to any interior design style, with the help of ones decorating. There is no longer a standard that one has to have the same home as their neighbors. The stigma that only classically traditional style furniture should be used in an architecturally traditional home has disappeared. The internet and access one has to content allows exposure to every type of home and decorating style. While one may think this is overwhelming, it's actually liberating once realized that any piece of furniture can complement any design style, just with the right décor and accessories. Gold may be on trend at the moment, but it's always been a classic as well. For home stagers, or homeowners, the Nathan James Glam collection is the key to introducing unique pieces, on an affordable budget that allow one to decorate with any and all home styles.
You can create your own classic and glam space anywhere in your home by purchasing your own pieces from the Glam collection. We have partnered with Nathan James to provide an exclusive limited time code 'Green10' for 10% off the Enloe, Oscar, or Lucy furniture pieces. So what are you waiting for? Start your home transformation with Nathan James today!